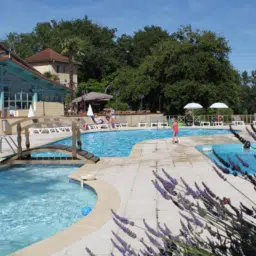 A SWIM WITHIN OUR CAMPSITE WITH A SWIMMING POOL GERS
A BIG BREATH OF FRESH AIR
& a GOOD SWIM…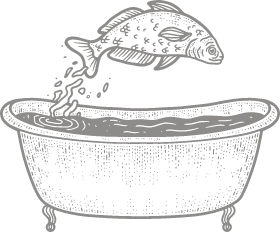 Gers campsite with a swimming pool
A swimming pool overlooking the lake…
At the heart of the campsite, next to our terrace area, you will enjoy our delightful swimming pool and its sunbathing area, overlooking the swimming lagoon and the white sandy beach…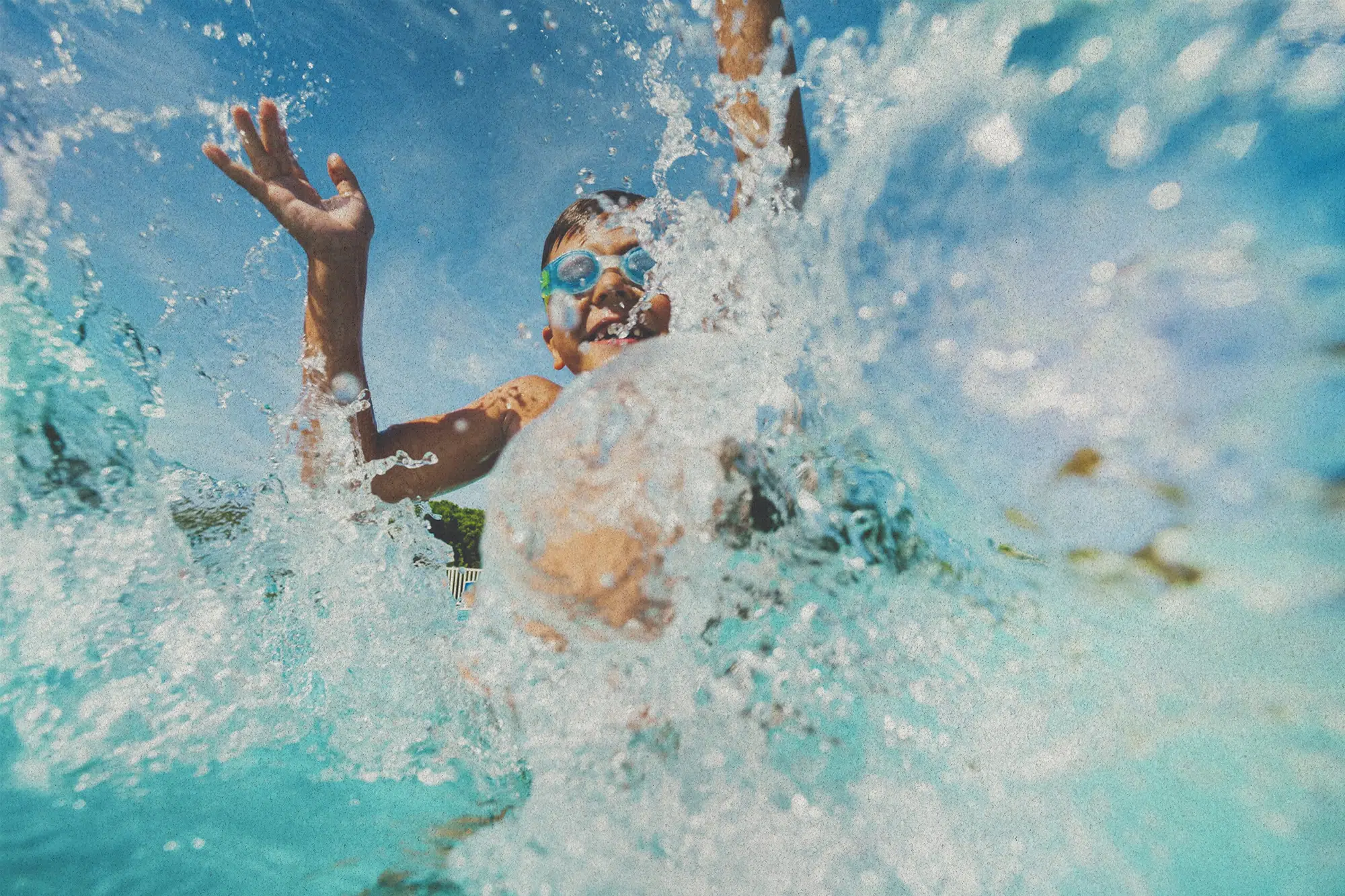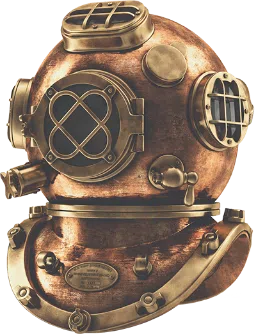 "We'll meet at the swimming pool! "
Indeed, it is around the swimming pool that people bump into each other, that parents find their children all tanned and all wet, often with a big smile on their lips. You go there for a refreshing swim, to bask in the sun on the sunbed on the sunbathing area, or for an ice cream on the terrace, next to the swimming pool.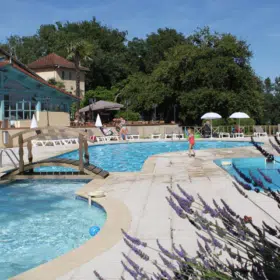 A heated swimming pool with 1 large pool and 1 paddling pool
Heated in the off season from April to October, our water park consists of a pool for older children and adults and a paddling pool for the very young. A large sunbathing area surrounds the swimming pool of our Gers campsite, where numerous sunloungers are available, so that you can read a book in the sun or in the shade of parasols. Even if some prefer the expanse of the lake for a more natural swim, numerous people make the most of our swimming pool to swim and share the delights of water.
A great location for those looking for a campsite with a swimming pool in the Gers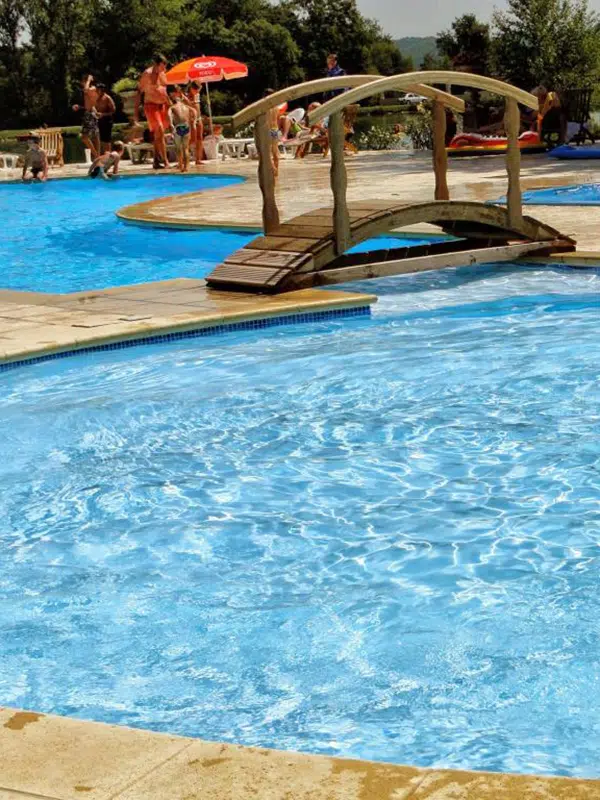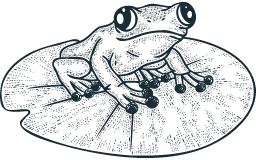 Clothing allowed for
swimming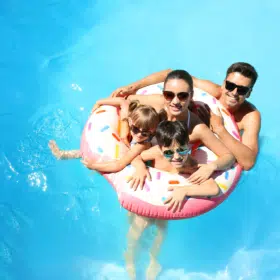 Swimsuit 2 piece

Swimsuit 1 piece

swimming trunks (swimming shorts are not allowed)
A Gers campsite with a lake
A large swimming lake…
Swimming in the clear waters of the lake, basking on the white sandy beaches, climb aboard a canoe to glide on the calm waters, the countryside is here, refreshing…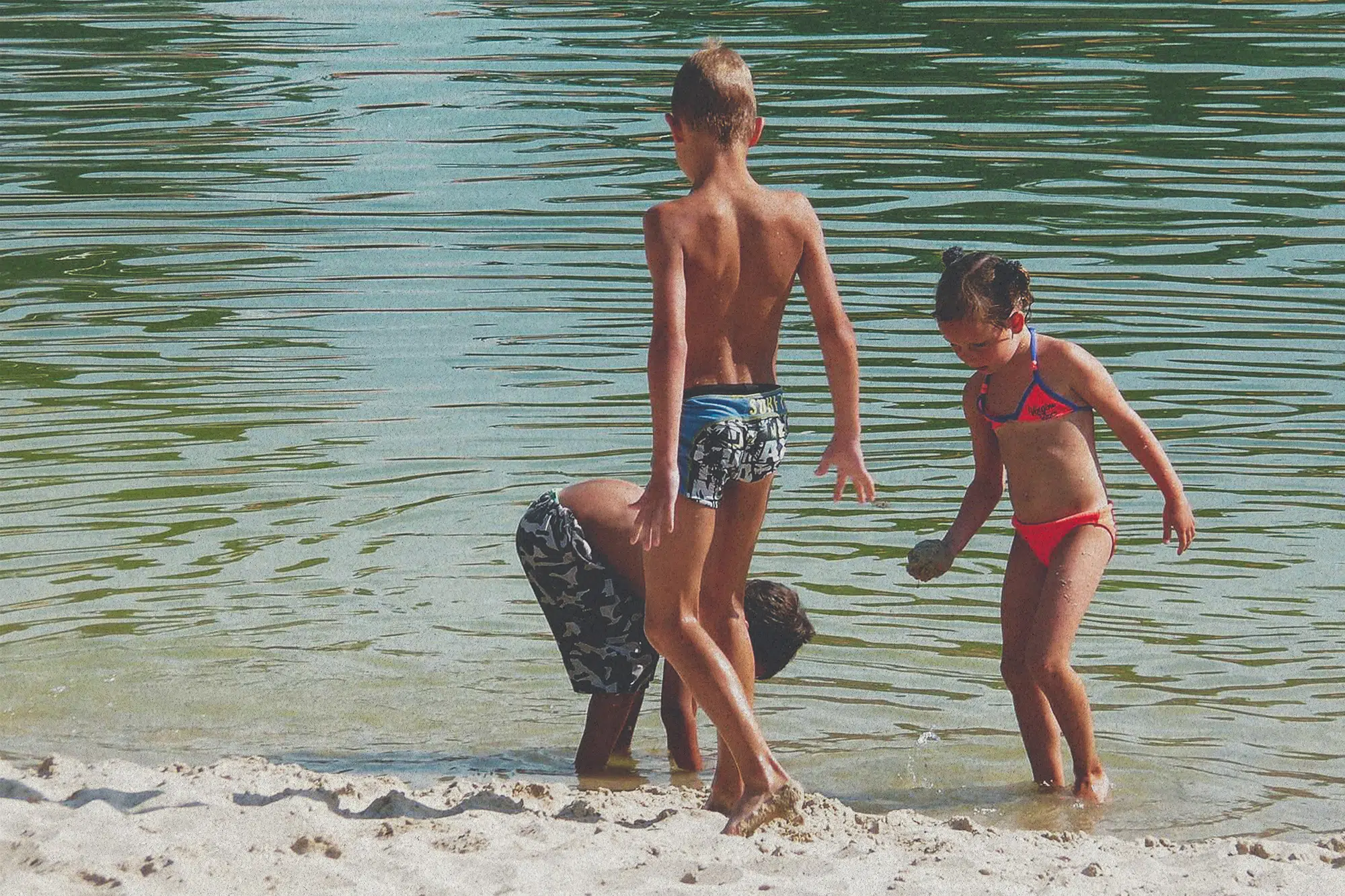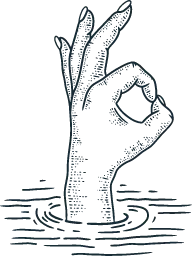 These drops of sweat that start to form on your all-tanned arms, this sun which makes you brown and feel sleepy, the soft sand which you long for…You feel the need to get up; a good swim will make you feel better!
How fortunate, in front of you, there is a large lake calling you like the sirens' song! The natural slope of the beach is perfect if you wish to gracefully enter the water, which is 27°C in summer. Unless you would prefer a more candid awakening by jumping from our wooden floating pontoon.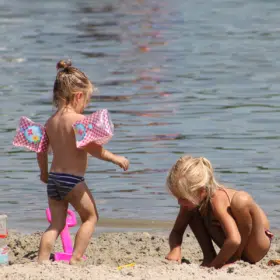 3 magnificent lakes form a total of 5 hectares for swimming, idleness, fishing and gentle nautical activities
The cheerful children who have fun by pulling on the boat rope used for crossing the lake, the coloured kayaks which glide gently towards the depths of the lake and the fishermen concentrating, their eyes riveted on their lines. The lakes offering everyone a piece of the countryside to have fun, let off steam, to relax, and of course swim, splash about, dive…
And you, who floats on your back, your eyes directed to the sky, searching for the trail of this aeroplane in the distance, which is breaking up the clouds, and is maybe going to Paris. You tell yourself that you are better off here than up there, floating on your back, you toes fanned out.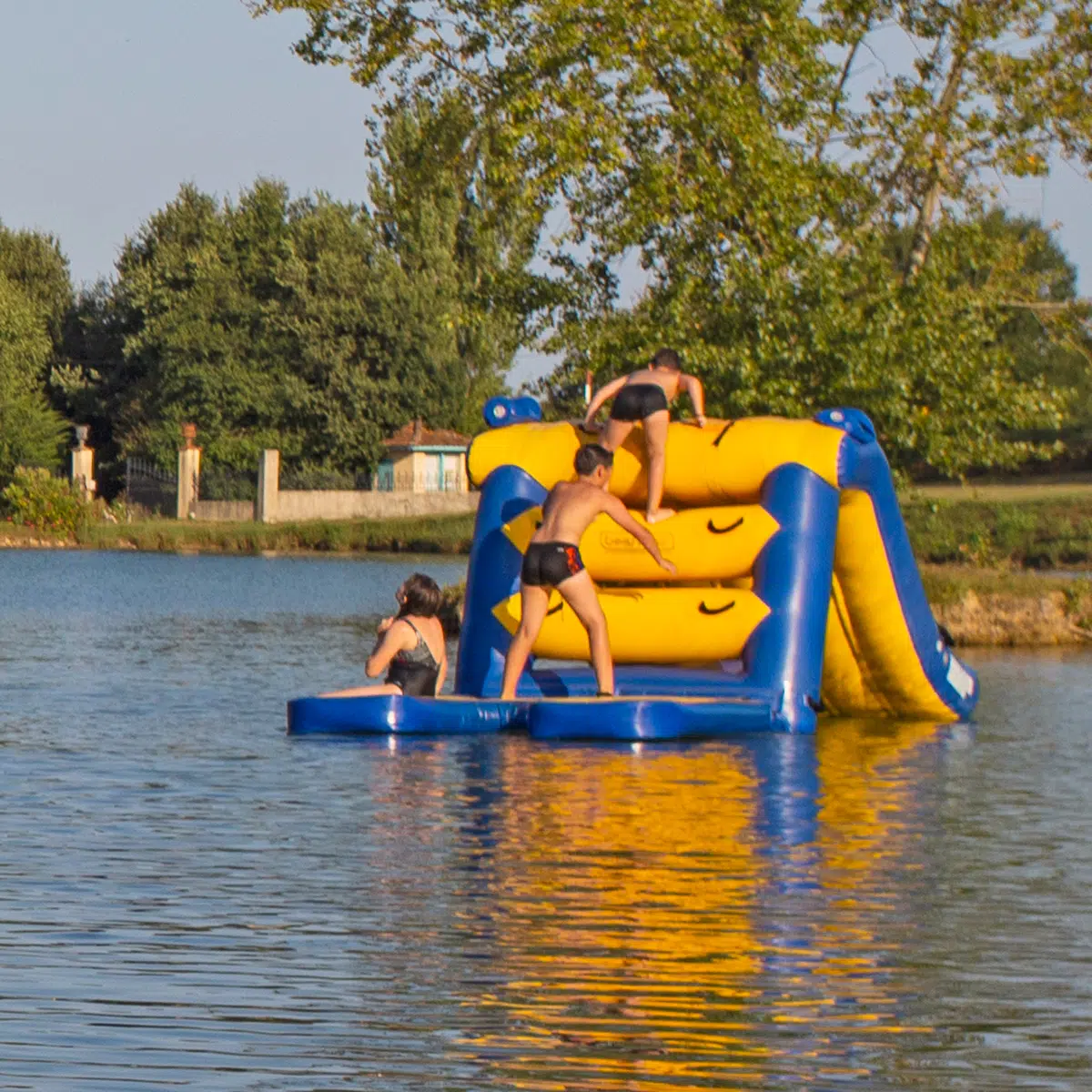 The little +
A water slide and an inflatable
see-saw on the lake
It is with an unconcealed delight that children reach this large inflatable water slide, set up on the lake during summer. It is with joy that we observe in the distance, this delightful concentration of smiles, cries, jumping in with a splash and splashing generally…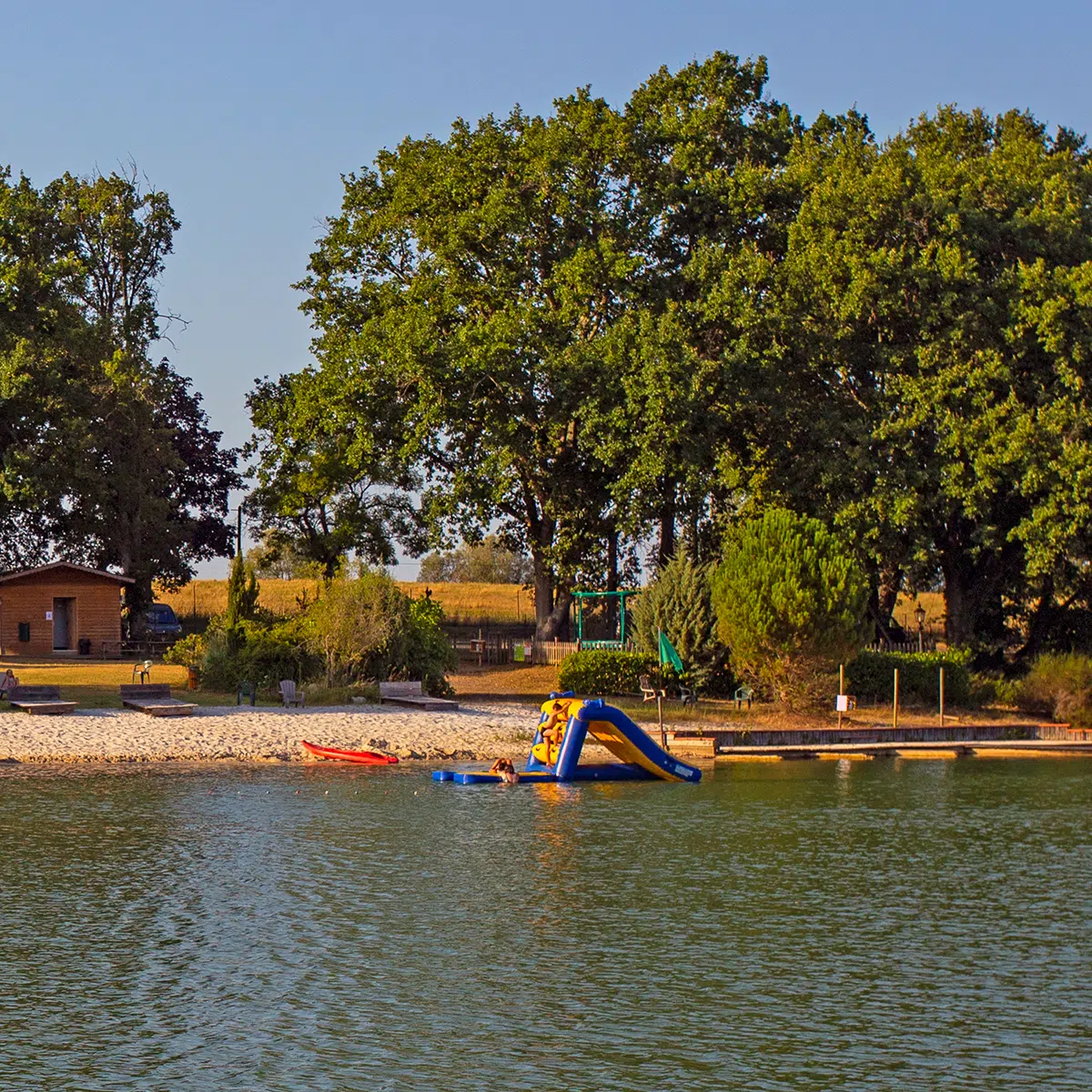 Here, you can find more information on…