Tipi Heureux
A modern-day teepee, complete with a second floor and all the comfort of a holiday home… adventure awaits!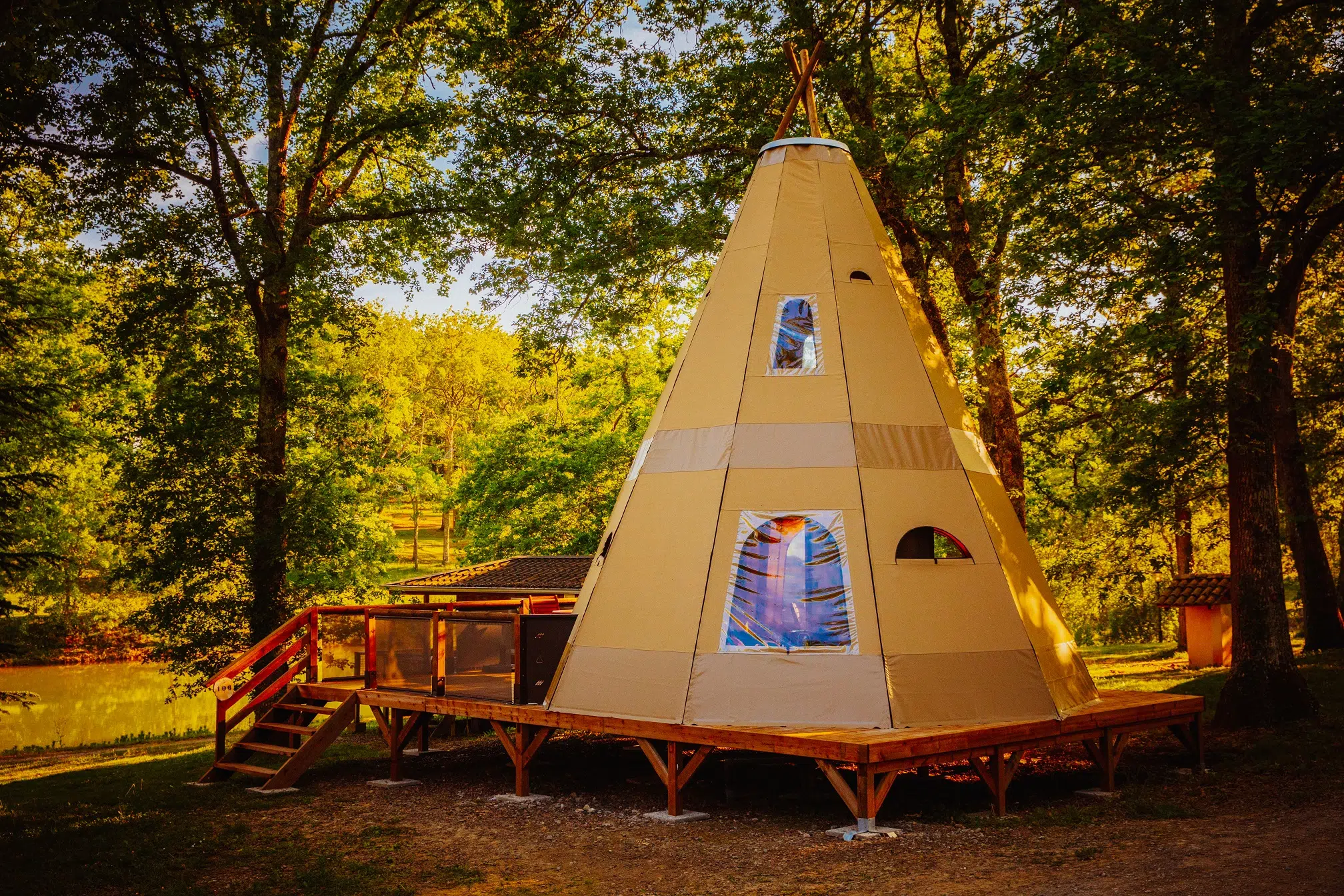 Description
Holidays are about taking time to play with your children and share experiences that will help create fond memories of quality family time together.
We have many ideal, unique accommodation options for you to share some happy family time, and this teepee is one of them. We don't call it "The Happy Teepee" for nothing!
Saying yes to the Happy Teepee experience for your holidays in the south of France guarantees you will make some wonderful family memories, and your children will be very happy bunnies!
"Mum look, our beds are on the top floor!" Your children will cry in delight as they discover their "dormitory", straight out of the Wild West.
The teepee may have been the traditional living quarters of the First Nation Indians, but the teepees here at Whaka Lodge are a modern design, to bring you all the comfort of a holiday home: 2 separate bedrooms, a fully-furnished bathroom complete with toilet, a fully-equipped kitchen and a large porch on stilts with a lakeside view to enjoy some family meals together, cosy up in the deckchairs with a good book, or play explorers of the Wild, Wild West.
"Dad, can we go fishing?" "After you've had a nap, darling." This will definitely be a holiday to remember!
YOU WILL LOVE
– The children's bedroom on the first floor
– The unexpected comfort of your own private bathroom, kitchen area and two proper bedrooms
– Releasing your inner child as you play with your children
– Spending your holiday in a unique accommodation that caters perfectly to families
EXTRAS INCLUDE:
Wi-Fi
Towels provided
Bed linen provided
Beds made on arrival
Kitchen kit (sponge, washing up liquid, tea towel)
ADDITIONAL OPTIONS
Breakfast buffet
Half board