Cabanon du lac
Wouldn't it be great if holidays with your baby were relaxing, amusing and rewarding? Our accommodation can make that happen! With a fenced-in garden, Wendy House, an early childhood playground, heated paddling pool and the beach just next door, your holiday with a baby will be child's play!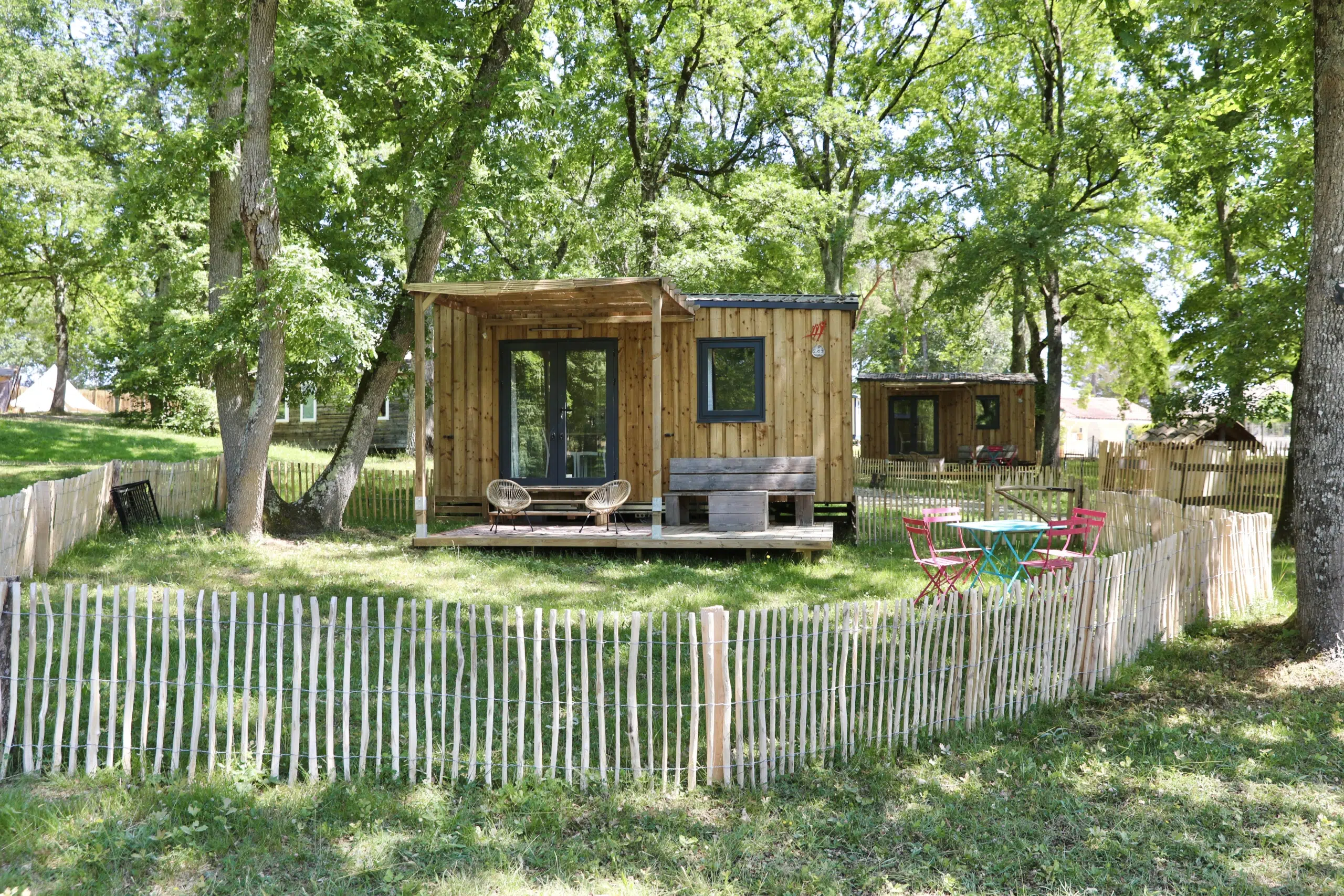 Description
Going on holiday with a baby takes careful planning, as well as comfortable accommodation, a safe space, and specially-adapted amenities and services.
At the Whaka Lodge, we have come up with a charming little wooden accommodation with a fenced-in garden, Wendy House, shady veranda and deckchairs, nestled right on the edge of the lake, just a stone's throw away from the swimming pool and other amenities… ideal for keeping away any baby blues! We know that having a fenced-in garden is a welcome addition when you're on a holiday break with little ones. And while your little cherubs play at make-believe in the crooked, quirky little fairy house, you will be able to enjoy a much-deserved rest to (finally) collapse on a deckchair in the sun or under a shady oak tree. Happy kids, relaxed parents… At the Whaka Lodge in Occitanie, this is what a kid friendly holiday is all about!
Adorable and comfortable, the perfect description for this little pied à terre for you and your baby in the South of France. With its twisted roof and charming veranda directly on the ground, this little fisherman-style cabin has all the luxurious comfort of a state-of-the-art mobile home: air conditioning, kitchen, bathroom and toilet, as well as two bedrooms, in a no-vehicle zone. Oh baby!
And right next door, your little ones can play in the indoor space of the early childhood playground, try out the crank-handled pedalos, make sandcastles and mud pies on the beach, or go fishing with Dad. And when it comes to bath time, head over to the "nursery" block just a few feet away from your accommodation to make use of the baby bath and mini shower and toilet block. There is even room for you to shower with them! For the ultimate chill holiday in Occitanie, book our Cabanon du Lac Lake Cabin at the Whaka Lodge, and you will be like a kid in a candy store!
YOU WILL LOVE
– The fun, safe space for a risk-free holiday with your baby
– The fenced-in garden with Wendy House
– Being in close proximity to the swimming pool and other amenities
– The large choice of activities for the children
EXTRAS INCLUDE
– Wi-Fi
– Bed linen provided
– Beds made on arrival
-Kitchen kit: (sponge, washing up liquid, tea towel)
ADDITIONAL OPTIONS
– Bath Towels
– Breakfast buffet
Please note that new images of the fenced-in garden and Wendy House will be up on our website shortly.