Bell tent 2 persons
Elegant, original, and natural. Our nomad duo tent accommodation invites you to go on an adventure in the open air while enjoying the sort of comfort you might find in an upmarket hotel room.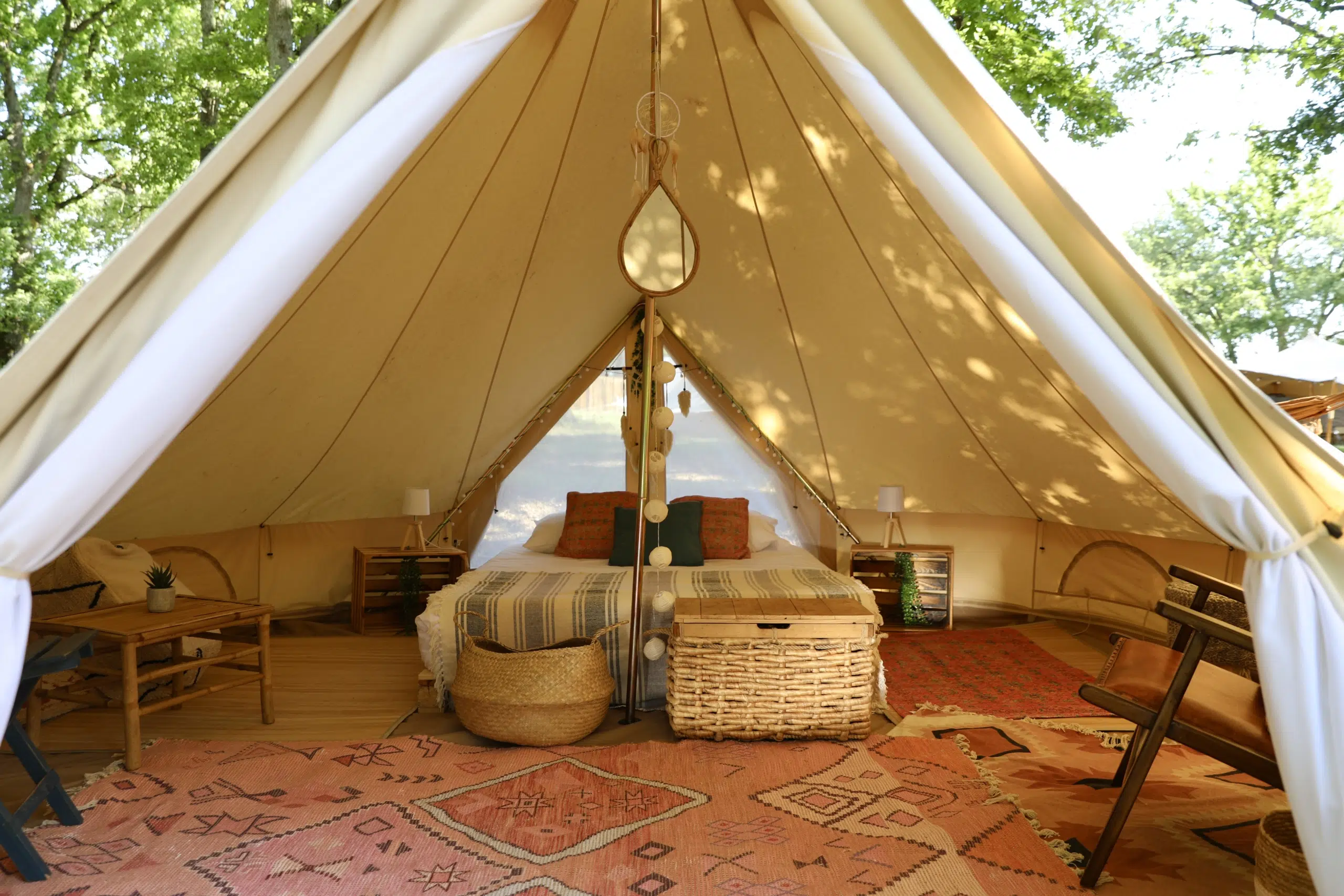 Description
Following a design based on pop-up hotels that can be found in other remote areas, our 10 Nomade tents decorated in a boho style invite you to try out an original and unique experience.
In this hotel-style tent, we can guarantee you will spend a restful night under the stars in a nice, large bed, complete with a high-quality mattress and cover, comfortable pillows and nice, fluffy quilts. Each tent is equipped with an outside wooden table and chair set. A cosy lounge area composed of bamboo tables and armchairs encourages you to kick back, relax, and catch up with your loved ones. At a few steps, you will find the Tam-Tam Café where you can drink a coffee or eat a delicious home made meal.
We are big believers in hotel-style luxury, which is why we have equipped our Nomade tents with bath towels and sheets. The beds are already made when you arrive, and why not start the day right by sampling from our optional breakfast buffet.
The Nomade tents may not have a built-in bathroom facility, but just a few steps away is the toilet and shower block, where showers, toilets, changing rooms and sinks are all at your disposal.
Sign up for an adventurous, luxury holiday here at Whaka Lodge!
The Nomade Duo comes with a large king-size bed
YOU WILL LOVE
Being in harmony with Nature without damaging the environment
The original blend of camping out in a tent and hotel luxuryt
The close proximity to the beach and swimming pool by the lake
EXTRAS INCLUDE
Wi-Fi
Bed linen provided
Beds made on arrival
Bath towels